Samson walks the plank!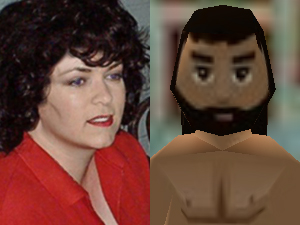 Even biblical strongman Samson couldn't overcome the popular vote tonight when he was told to walk the plank by Ark viewers worldwide. For Gabe's interview with Samson just before he walked, click here.

And now we can reveal that the testosterone-driven Old Testament hero, unlucky in love with Martha on board Noah's bobbing vessel, was played by the testosterone-free Janine Calder who lives "45 minutes southwest of New Orleans".

"Really, it wasn't so shocking, Samson proposing to Martha," says Janine. "I have always been a Mary-at-Jesus'-feet, longing to be just a little more like Martha – and I LIVE in denim jumpers, the homeschooling mother's uniform. So Samson absolutely HAD to have Martha as soon as he saw her – or get shot down trying! Samson simply told Martha all the things I want to hear!"

So what makes the special character that is Janine Calder?

"Once upon a time," she explains, "a Cajun boy serving in the US Navy married an Appalachian girl from North Carolina. He eventually returned with her and their daughters to French Louisiana. The juxtaposition of these divergent cultures in the home may explain some odd things about me."

As a little girl growing up, Janine had a choice of two books to pass the time on bad-weather Sundays – an old family Bible, or an even larger volume about breeding, doctoring and butchering livestock and large game animals. This may explain a few more odd things about the woman behind the man.

She married Mike, a man she describes as "a football god", and went off to university, trailing streamers of glory for winning her National Merit Scholarship – "though, of course I still haven't graduated, having been sidetracked by family."

Janine and Mike were quite prolific, and, as she explains, "not every college professor enjoys vying against cute little godlets for his classes' attention!" 

So, since then, through pleasure and pain, grief and great joy, Janine, in her own words, has "continued to learn, to love her Lord and family, and to fulfil just about every desire she has ever really cherished.  Life is hard, but God is good."

A regular contributor to the bulletin boards of shipoffools.com – under her real name – Janine appears from time to time at church speaking engagements, having developed a reputation for using humor to get her Bible points across.

Next on the agenda is a move to Dulac, Louisiana, a smaller community even nearer to the Gulf of Mexico. 

"There, if the Lord wills and tarries, the Woman Who Played Samson will work with the Football God to start a new congregation of the churches of Christ this summer," she explains.

Her final thoughts on being an Old Testament hero?

"What a blast!"
Back to Samson's homepage
The Ark © shipoffools.com 2003

*Samson not drawn to scale