Post-plank interview with Neb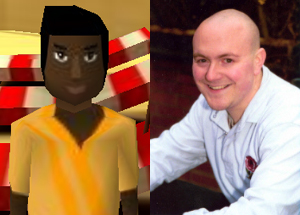 Day 24

As Day 24 dawned on the Ark, no less than four arkmates – Esther, Maggie, Neb and Samson – were wondering if this would be their last day onboard. In the event, it was Neb who was chosen by public vote to walk the plank. After a quick dip, Peter Ould, who played the Mesopotamian Monarch, arrived in the Ark Chat for his post-plank interview with Clare, one of the originators of the game. Had Neb's giant ego rubbed off on Peter? Why did he call God "dude"? For these and other questions from Neb's assembled fans and critics, read on.

Clare: So, God Neb, who are you underneath that giant hairstyle?

Neb: As in real life?

Clare: Yes, what's you name and where are you from?

Neb: My name's Peter Ould and I live in Oxford, UK.

Clare: And... age... distinguishing features?

Neb: 29, VERY short hair. Ummm... not sure after that.

Clare: Build... (I like to know these things)?

Neb: Medium? (This is getting a bit interesting...)

Clare: OK... I'll back off! And what do you do in Oxford?

Neb: I'm a Church of England ordinand, which means I'm training for ordination.

Clare: Really! was being Neb good practice?

Neb: Of course – one day I shall rule a parish with an iron thumb.

Clare: What made you chose the character of Neb?

Neb: I thought he was a great character to play. He had an even bigger ego than I do. He's entertaining – rules half the world and acts like it, too.

Clare: You played him very laid back and tolerant, I thought. How did you square that with the fiery furnace business?

Neb: Well, he's a man who doesn't have to prove himself. He knows who he is and that's OK. But still, knowing who he is can hack others off.

Clare: Did you feel that confident on the Ark? Was it conducive to being Neb? It was quite a strange place for a king to find himself.

Neb: I just enjoyed it! He treated it like a cruise, like a holiday.

Clare: Chorister asks – you played the piano a lot on the Ark – do you do that in real life?

Neb: No – I'm a percussionist and I play the guitar as well.

Clare: Umbrella asks – if you had stayed on the Ark longer, did you consider going mad, as in the Bible?

Neb: I was trying to slowly tease the other characters into witnessing to me more. Giving them opportunities to have a good apologetic bash.

Clare: How did you think they did? Who *witnessed* the best?

Neb: Well, once they dealt with Neb as a real person and accepted him as he claimed to be then they started building a rapport. For example, Martha, instead of just dissing him for thinking he was a god, worked around the idea and tried to explore it with him. That was cool.

Clare: Would it have ever gone further than that, though? Would we have seen a "genuine" baptism?

Neb: I doubt it! But now you'll never know!

Clare: Icarus Coot asks – what went through your mind when Jez asked you to disrupt the service with her?

Neb: Well, I just thought it would be the first thing to get me booted out, so I thought "no"... but if she wants to get herself booted out, fine by me!

Neb: Playing the game guys, playing the game... :-)

Clare: Was there a tension for the "pagan" characters, wanting to play them true – but not wanting to get kicked out?

Neb: I think so – It was essentially 10 v. 2 and those are hard odds. I was trying not to be totally against the others, but obviously there had to be some differences.

Clare: Do you think Jez feels that too?

Neb: I'm sure she does.

Clare: A number of questions coming in about the implications of playing a GOD.

Neb: Go on...

Clare: Did it inflate your ego in real life?

Neb: Nah... I couldn't tell anybody else that I was involved in the Ark, so really it had no effect.

Neb: It's a character, guys!

Clare: No one has noticed a difference?!

Neb: I doubt it.

Job's Ghost: You mean the Ark isn't real???

Clare: And Monkeyhead asks how did you find and develop your voice? Did you model it on anyone, or is it very much yourself in your head?

Neb: How do you mean?

Clare: Do you call people "dude"?

Neb: I styled him on a west-coast surfer. Laid back dude! Way cool.

Clare: Why?!

Neb: Why not? I reckoned Neb was a laid-back kind of guy.

Clare: Really???

Neb: Sure – conquer a few nations – you kinda know you're cool. Perhaps know a bit too much, hence golden statues and the like.

Clare: What were your thoughts behind trying to co-opt Samson?

Neb: He's a strong man – could be handy around the place.

Clare: Except when he's mooning after the women!

Neb: Yeah – that was fun. I loved today's encounter in the study. He was so OTT.

Clare: Thanks, Peter – I'm going to throw it open to everyone now!

Simon: Did you get any insight into what might be Neb's good points?

Neb: Yeah – Neb is simply a product of his environment. He can't help being born to his dad and being treated like a god. He was just a normal guy in extraordinary circumstances.

OOT: What was it like challenging God?

Neb: Fun! Really fun. Absolutely brilliant.

Erin: Enjoyed that, didja?

Neb: Loved every minute. That was when Neb was at his best. He was SO real at that moment.

Simon: Did you like God?

Neb: Yeah I did, all of him. Some of the conversations in the Crow's Nest were actually quite cool.

Simon: A worthy equal, maybe?

Neb: A good second, Si, obviously. It was nice sparring with God...

Moses: Would that be your favourite moment?

Neb: I had this sense that I had to stay within the rules, but I could really push it as they couldn't just throw me off. The "Ooohh, serve me asparagus" bit was my favourite moment.

yoyo: How did you feel about your date?

Neb: I just wanted to have a chat to Martha. Personally, I think the "romance" thing in the Ark is a bit silly and artificial.

Monkeyhead: Easy for a king with eleventy-billion wives to say, silly & so on...

Clare: Would you recommend a voyage on the Ark as part of Bible college training?

Neb: Of course, but it's hard work and demanding on the time.

ChrisT: Peter – who do you think is going to win? The Big Question!

Neb: Oohhhh Chris – not sure.

Simon: Make a prediction, O Mighty One!

Neb: I think it'll be Martha or Paul.

ChrisT: Peter – how will your time on the Ark change the way you view your faith?

Neb: Nah Chris – it wasn't THAT deep... :-)

Monkeyhead: Will you get any material out of this Ark insanity for use in your work?

Neb: I'm sure there's a sermon or two tucked away somewhere.

Clare: Now you can have a social life and/or sleep!

Neb: Sleep! Bye, guys.
Back to Neb's homepage
The Ark © shipoffools.com 2003

*Samson not drawn to scale