And the winner is... John the Baptist!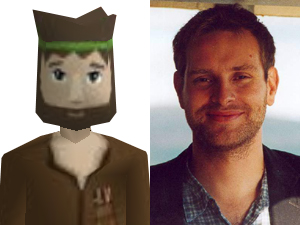 Day 40

John the Baptist, the Bible hero most fond of splashing around in pools of water, has stepped onto the dry land of Ararat to claim the top prize of £666 in the world's first internet reality game show.

In an irony-laden final twist to the contest, which launched on Easter Sunday, John was the only one of 12 contestants not to walk the Ark's plank and plunge to the depths below.

And we can now reveal that the locust and wild honey-eating New Testament prophet was played for 40 days and 40 nights by the Rev. Jeremy "Jem" Clines, 34-year-old chaplain of St John's College, York.

"Playing the Baptist was an intense experience," says Jem. "I started to dream in character and worried about my sanity."

To prepare for the part, he took long walks on beaches.

"I think I have become a bit like John," says Jem. "I've been having cravings for honey every day, and taking leisurely baths! The background reading has been great fun. I haven't done this much in-depth reading about biblical characters in ages.

"The most profound thing, though, has been looking at John the Baptist in art, particularly Russian iconography. This ascetic man, who saw himself as nothing, served an unobtainable dream of peace on earth. He seems a bit on the crazy side, and yet there is something profoundly attractive about him.

He reminded Jem of the popularity of Swampy the 90s road protester, who was an iconic counter-cultural, counter-intuitive character who gained popular appeal by talking of peace and risking his neck.

"I felt a real responsibility to get the character right," says Jem. "While I was online a bit of alcohol with my friends helped."

A big fan of the second series of Big Brother, Jem finds disturbing the blurring of truth and fiction for entertainment.

"We live in crazy times," he explains, "but I think The Ark is a constructive way of pushing the boundaries."

Jem's favourite topics of conversation? "Partying, peace and justice stuff – and politics."

And three essential aspects of a perfect day?

"Good friends, being outdoors, going crazy."

Congratulations to Jem from everyone on The Ark.
Back to John the Baptist's homepage
The Ark © shipoffools.com 2003

*Samson not drawn to scale