Joseph raptured! Vote on his replacement!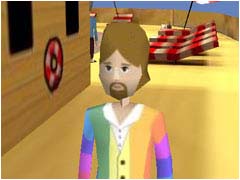 Day 5

In a surprise twist, God revealed to the Arkmates last night that Joseph has been removed from the Ark, in order to pursue active opportunities elsewhere. "He's been called away... on urgent business for his master, Pharaoh," the shocked Arkmates were told.

The news ends days of speculation, during which Joseph had been in a trance, receiving the strange dreams recorded in his diary.

No sooner had the Divine Dozen Minus One begun to take this in than the Ark Angel Gabriel dropped another bombshell over supper: Joseph's replacement is going to hit the Ark any day now... and it's going to be either Jonah or Jezebel!

Which is it going to be? Well, that's where you come in. It's up to the viewing public to decide. The vote went live at 11pm tonight. Vote on it here!
Back to the news items