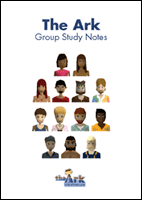 Want to run a group discussion on the characters onboard the Ark and their originals from the pages of the Bible?

Below are links to study notes which you can download free for your church's home groups, youth groups or priestly prayer huddles. Alternatively, you can follow the notes on your own.

Each study takes one of the characters, opens up an episode from the Bible and looks at their highs and lows, and how they're being played onboard the Ark. Download all 13 or just pick your faves.
Click the links below for the full set of character studies (630k size) or for individual characters (356k each). You can print out copies for all the members of your group. UK notes are on A4 size paper; US notes are on US letter size.