The Ark to remain online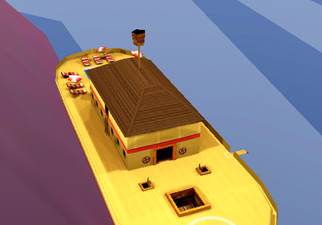 The Ark, including the 3D model of Noah's famous boat docked at Mt Ararat, and the website, is to remain online for the foreseeable future.

"Now that the Ark has arrived at Mt Ararat, we're in the process of readying it for a prolonged stay," says Simon Jenkins, editor of shipoffools.com, the producers of the gameshow.

Once that process is complete, visitors to the Ark will find the following changes...
all 13 characters will be onboard the Ark as walking, talking "bots" (in automatic mode) available to be quizzed about their identity, likes and dislikes, etc.
the Ark will contain more interactive, clickable objects for visitors to explore
a bigger selection of recorded highlights will show the best moments from the show's 40-day voyage
a special guided tour of the Ark will be available, hosted by Noah or Joan

Meanwhile, the Ark website, with news stories, profiles and diaries, will be maintained and updated with the news coverage the show gained while it was running.
Back to the news items