Jezebel walks the plank!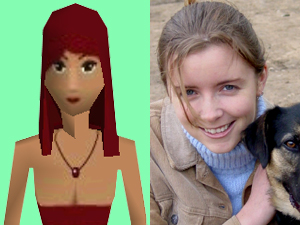 Day 36

Heights and Jezebel just don't get on, it seems. The Bible recounts how eunuchs threw the murderous Queen to her death from an upstairs window.

Tonight, her virtual double met a similar fate, becoming the eighth Bible legend to walk the plank in the world's first internet reality game show.

And we can reveal that the scantily-clad baiter of God-fearing Ark good guys like John the Baptist, Paul and Martha, was played by youth worker Rachel Dodd.

A native Californian, Rachel lives in the city of Manchester, north-west England, though she is currently on a roadtrip in California – "hence some connection problems!"

She recently graduated from Bible college. In her spare time she teaches music – "and spends inordinate amounts of time and money at Starbucks, catches up on Friends episodes missed whilst studying."

Rachel's husband is British – "I met him when I came to Manchester to study, I couldn't resist the accent!" He is also a youth worker and an "avid follower of Jezebel". They find youth work "inspiring and challenging."

As for Rachel's family? "I'm not sure the folks would be proud that their little girl's impersonating Jezebel on an internet reality show!"

Rachel's Jezebel certainly stirred things up on The Ark. Wryly, Jezebel writes in her diary: "I take a day or two off. And what do I get for it? Nominated! I get no gratitude for the endless hours spent cheering people, lifting boredom, and instigating merriment. I'll just have to spend my last few days here on the Ark living it up and leaving my mark on these good people. There's bound to be some mischief I can get into tonight..."

* Interesting footnote: In ancient times, Jezebel's name was written "yzebel". But the Hebrew writer of Jezebel's stories in the Bible added an extra letter at the front: "ayzebel". This changes its meaning from "Baal is prince" to the insult, "where's the dung?" Which just goes to show that no one knows how to slip in an insult like the writers of the Bible.
Back to the news items