Fun and games on deck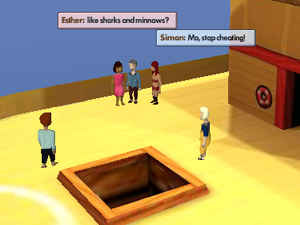 Day 17

The Arkmates took advantage of clement weather today to have fun on deck. After Esther, Moses, Paul and Simon joined together in poolside games, before assembling at Simon's instigation over by the dovepad for a rousing game of British Bulldog. "It's a great game," he explained. "We used to play it in the playground. Of the synagogue."

Although the game was his idea, Simon doesn't seem to have been much good, with it, losing the first round, although managing to catch Paul in the second round. The gamne found itself interrupted by Paul's sighting over the side of the Ark of a giant squid. "He's spitting out leaves," observed Paul.

Speculation arose among Moses, Simon and Paul over whether they should keep the animal as a pet, and what it should be called, suggested names including Squiggles, Otto, and Erin. Moses, revealing that his pet frog was as yet unnamed, was ridiculed by Simon Peter, until it came out that the Apostle had the habit of naming all of his pets Eric.
Back to the news items