Girl time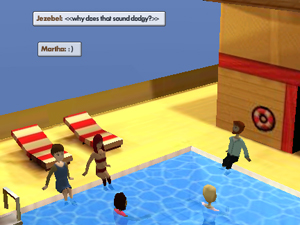 Day 17

While the men grappled with a dove-borne problem, Esther, Mary, Martha and Jezebel got together for some "quality girl time" today. The four remaining women on the Ark finally got the chance to bond by the swimming pool. Mary was unconvinced: "If we go by what the TV tells us, maybe we should talk about shopping. Or boyfriends. Or paint our toenails."

Esther: "It doesn't have to be frufry stuff like that." Esther admitted shortly after that she had made the word "frufry" up.

Martha having suggested a trip to the kitchen for baking stuff, the others balked, although an overheard comment from John the Baptist led the conversation on to whether worm was a feasible meal for the Arkmates. Mary suggested crispy oven-baked worm, while Martha suggested a stirfry, with "maybe a bit of breading", or "maybe a nice honey mustard sauce."

The girls were interrupted in their culinary musings by Moses, who was accepted as a "token male".Amidst comparisons of Manna and cooked locusts, Moses, intimidated by the girls, was about to bolt, but was informed by Martha that "Estrogen has never poisoned anyone by proximity."
Back to the news items