Simon Peter stays while Eve walks the plank!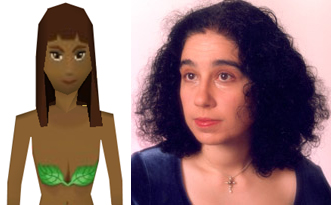 Day 16

The fig leaves have fallen from Eve tonight – to reveal Maria Vassallo, a psychiatrist from Oxford.

Maria describes herself as "genetically a sort of a Catholic with Methodist bits" who is, however, hoping to be received into the Anglican church later this year.

"I am half Welsh and half Maltese," she says. "I was born in Wrexham but do not have a Welsh accent and look more Mediterrranean than Welsh. But being Welsh is an important part of my identity."

Maria recalls staying with her grandparents in Wales when she was a child.

"As a result I have a very strong emotional attachment to Welsh hymns," she says. "My all-time fave is Calon Lan. It's really beautiful and moving about how important it is to have a pure heart... it made me cry at my mum's funeral."

Living in Oxford, Maria most misses Welsh cakes straight from the griddle and coal fires on a cold day outside. The last time she was in her native country she went back to her grandmother's cottage in Coedpoeth – "I visited some friends in Barry and then we all went to a carol service in the Presbyterian chapel down the road."

She likes interesting conversations down the pub – but dislikes technical complications on the Ark that keep freezing her in mid-flow.

"I can't quite believe that anyone would want to vote off Eve, when she's dressed in that outfit!" she says. "I was a bit distracted with the writing of Eve's part, not just by the computer repeatedly seizing up, but by an experience I had just before Easter, which has made me think very seriously about whether I have a calling to be ordained."

Maria admits that this resulted in a dire lack of sleep over the past two weeks – probably making Eve "more po-faced" than she would otherwise have been.

"This has also meant she has got quite serious," explains Maria, "berating God for not telling her what he wants her to do clearly enough. This was true both in real life and on screen as God's words failed to materialise in their speech bubbles!"

Maria regards the Archbishop of Canterbury, Dr Rowan Williams as a key figure.

"I think he's wonderful," she says. "I feel very reassured, as I ponder the Anglican church, to know that it is headed by someone so intelligent, so Godly and so very Welsh."
Back to the news items