Let's do church (and not kill each other, OK?)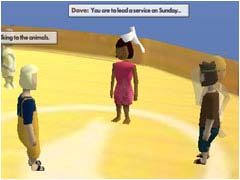 Day 5

After Simon and Esther's recent spat, it seems that Simon can do nothing right. His attempts to ask forgiveness from Esther brought him nothing more than a slap in the face. Simon: "I'll take that's a 'no', then."

After all this, you'd expect the worst possible thing would be to expect the two of them to be in close proximity with each other... but in one of those ironic twists of which the Almighty is so proud, today's Dove Pad missive brought a shock to our two Bickering Bible characters. The two of them, along with John the Baptist, have been charged with running this Sunday's service.

The dove communicated that the theme is, surprise, "forgiveness". None of them were particularly thrilled at this. Esther: "That's not funny".

Simon suggested to John that he relay messages between him and Esther. Esther was not impressed: "What, you can't talk to me, but you can touch me all you want?"

John was last seen tearing his hair out. Will Simon and Esther patch up their differences? Will John be able to cope with being stuck in the middle? Will they make it to Sunday alive, let alone with a complete church service planned? Stay tuned – same time, same place every night.
Back to the news items