New epistle from love-sick apostle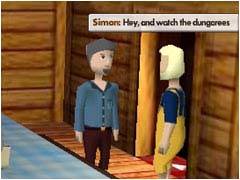 Day 3

Paul has been taking time out from squabbling with Peter (pictured above) and evangelising Neb to pen a new epistle to the wayward Corinthians. "I am worried about my little flock there... they can't seem to keep their hands off each other," he says.

Yesterday, he finally got down to work. He started well – "You foolish Corinthians! Who has bewitched you?" – but then seemed to lose concentration: "Ah, but I am bewitched as well by that vixen Esther...."

Paul's relationship with Esther took an interesting turn on Monday when she came and stood just a little too close for comfort with him out on the main deck. He was so overcome with emotion that he ended up singing Sinatra's "dooby dooby doo," while Esther just sighed, "boys boys boys".

Maybe he was fuelled by this latest "thorn in the flesh" in his new thundering against the Corinthians. He concluded the latest draft of his new epistle with this fine passage...

"Has high fructose corn syrup been provided to us by the Lord? By no means! It is an invention of those who would lead you astray. The same people who think thongs are a comfortable kind of underclothing for women. The same people who send us spam promising to enlarge our body parts. Do not yield to them, I say."

Watch this space.
Back to the news items