Mesopotamian megalomaniac gets Bible-bashed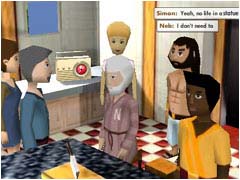 Day 1

Neb, the Ark's very own Babylonian big head, got more than he bargained for when he asked "So who was this Jesus dude?" in the kitchen last night. Before he knew it, Martha, Simon Peter and Paul weighed in and gave him the old "good cop/ bad cop" evangelism treatment. Neb proved a tough nut to crack.

When told that Jesus was the Son of God, Neb's response was to reply, "I can't remember a kid of mine called Jesus".

The assertion that Neb was not, in fact, God was met by the megalomaniacal monarch with some confusion (plus head-scratching) on the part of Neb, who just couldn't seem to grasp the idea. When tempers began to fray, Mary Magdalene joined in the fun, trying to defuse things a bit, only to be told by Martha, "This isn't a fight, Mary dear. This is an education in progress."

Although Neb didn't seem to have been particularly educated ("ummmm.... I built the biggest empire the world has ever seen – that's pretty godlike"), it was left to Samson to put the final boot in, stating "Nebby, you're a cow impersonator, not the Person who made cows."
Back to the news items