Eve sets hearts racing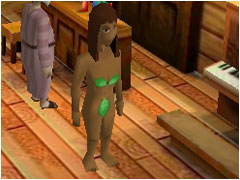 Day 0

True to expectations, Eve's brief fig leaves on the opening day of the Ark's voyage drew eyes and caused hearts to flutter. "Hi Eve...nice leaves," was Job's opening greeting to her.

Although Eve received interested enquiries about what exactly lay under those fig leaves from Nebuchadnezzar (and Simon Peter... and Samson...) Eve appeared only to have eyes for the Ark Angel Gabriel himself. After telling Gabe just how nice he smelt and how cute he was, she offered to hug him.

Later, in the Blue Bedroom, even the writer of numerous epistles recommending chastity, Paul himself, was drawn to the lovely Eve. When she asked him, "what sort of flowers do you like, Paul?" he could only simper, "the ones that you like, Eve."

Will Eve be tempted by the Ark's men? Or will she stay loyal to Adam, even though she confessed that their relationship needed to be spiced up?
Back to the news items